Is National Wealth Center an MLM business?
Tuesday, January 6th, 2015 at 2:30 am
Is National Wealth Center an MLM business?
Another question that I get asked most often about National Wealth Center is "Hey James, Is National Wealth Center an MLM business?"
I will admit that MLM (multi-level marketing) gets confused with just any type of work from home or home based business and as a person who has had success with both MLM and affiliate marketing opportunities like National Wealth Center, I feel that this article will help alot of people in understanding the difference between affiliate marketing and the traditional MLM business.
Before I get into answering the question, it's very important to understand just what an MLM is, MLM stands for 'multi-level marketing' and this basically means that there are multiple, usually many levels within the compensation or distributor level of the business opportunity.
This is very much different from what the compensation plan of National Wealth Center and similar affiliate marketing businesses are.   We'll take a closer look at these topics within this post.
How Does an MLM Work and How Is It Different than National Wealth Center?
Many, if not all traditional MLM programs have a multi-level compensation plan attached where we can see an example in this screenshot: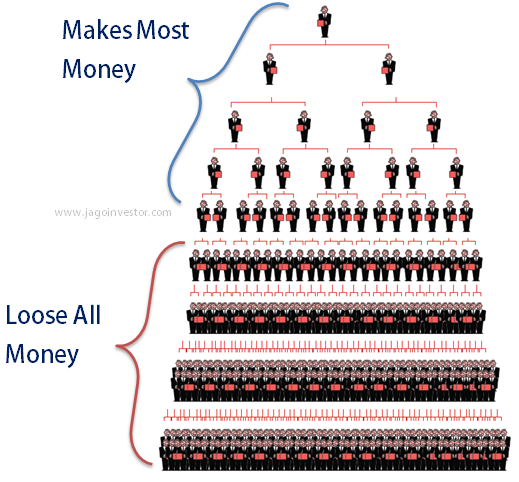 While I'm not showing this screenshot as a disclaimer or warning to any traditional MLM program, this screenshot really sums up how money is made within a traditional MLM compensation model.  Those at the top of the MLM program are making percentages of the sales throughout the whole structure, usually at around 5% overall volume of the organization.
MLM opportunities almost always have a very low commission structure for products sold within the business as well, usually being no more than 25% maximum for any product sold from the opportunity.  This is because most any product within a traditional MLM is a physical product (weight loss, skincare, beauty products, etc.) that has to be manufactured and shipped and alot of that cost is from the company itself, resulting in much lower commissions for distributors selling the product.
Ok So How Is National Wealth Center Different From An MLM Business Then?
The most drastic difference between National Wealth Center and a traditional MLM by far is the compensation plan.  While I've shown the limitations of a traditional MLM program we will now look at how the compensation of National Wealth Center works in detail.
National Wealth Center has what is called a Reverse 2 Up Compensation Plan (you can read more about that here on this site) in which the 2nd and 4th referrals are passed up to the sponsor, looking something like this: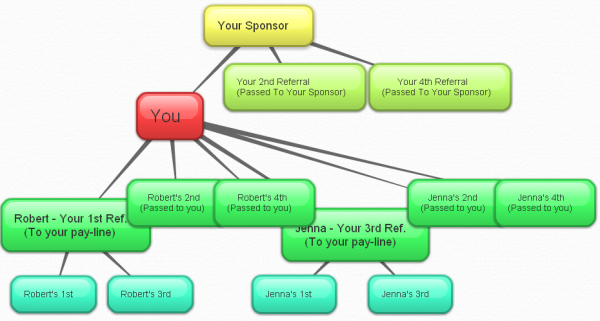 As we can see from the screenshot, the compensation plan within the Reverse 2 Up only goes 2 levels or 2 tiers.  This is very much different than the many levels going downward with the MLM type of structure.  It also gives anyone the opportunity within the program to make much more money than their sponsor within the compensation plan.
Another huge and probably the biggest difference within National Wealth Center is the 100% commissions on the 3 monthly levels.  Each member makes 100% commissions on their referrals to the $25, $50, and $100 monthly levels.   As stated before, you are lucky to make 25% commissions within any MLM plan pay structure.
This makes the compensation plan of National Wealth Center much more easy and more profitable for just about anyone involved.  Especially since any member breaks completely even with just their very first referral into the level they refer to.  That is absolutely unheard of within any MLM whatsoever.
While you can read on this site tons of ways National Wealth Center is miles ahead of just about any type of MLM in existence, the best reasons in my opinion are:
Digital products – all of the products within National Wealth Center are digital and delivered instantly, NO physical products to ship.

Online – National Wealth Center can be completely built and successful online.  NO home parties and 24/7 phone calls like the typical MLM programs

$9 admin fee – when you compare this to the usual $100 admin fee with MLM programs

Much much higher retention rates – each member breaks even with their very first referral.  Unheard of in the industry.

The Power of 4 – Just referring 4 members creates a perpetual and limitless income with this concept duplicating among referrals
As stated before I've had success in both the traditional MLM and National Wealth Center, and I must say that success with National Wealth Center is about 100x easier and feels like I am in retirement with the lifestyle the program has given me.  I have no desire and will never go back to the horrendous home parties and 24/7 upline calls of the MLM world…
If you are tired of the hype of the MLM world and want an amazing 100% commission income coming in every month, then do yourself a favor and click the 'Register Now' button below…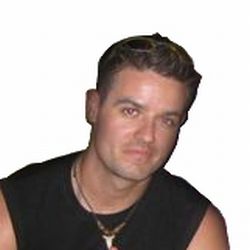 James Matthews
662.750.1029
IDwithJames@gmail.com
www.TheNationalWealthCenterReview.com

Tagged with: mlm • national wealth center • national wealth center vs mlm
Filed under: National Wealth Center • National Wealth Center Compensation • National Wealth Center Levels • National Wealth Center News • National Wealth Center Review
Like this post? Subscribe to my RSS feed and get loads more!