How To Pay The Admin Fee For National Wealth Center
Wednesday, October 29th, 2014 at 4:19 am
How To Pay The Admin Fee For National Wealth Center
Despite National Wealth Center giving very clear directions within the back office of the program, I still get asked often on how to pay the admin fee for National Wealth Center.
In this post I am going to give very clear directions on how to pay the admin fee for the program for anyone who may be having trouble.
It is very important to mention to keep the admin fee paid and current, because failure to do this will result in a member's account being deactivated.
Here are the steps to pay the National Wealth Center Admin fee:
Step 1:  Log into your National Wealth Center account with your username and password at the company site here
Step 2:  When logged in, you can simply scroll down to the bottom of the dashboard page and you will find this information

Step 3: Click the 'Click here to make your payments' as shown in the screenshot above
Step 4: After you make that click you will come to a screen and will see the different National Wealth Center levels each member can join, scroll down the page to find the 'Admin Membership Dues' section as shown here: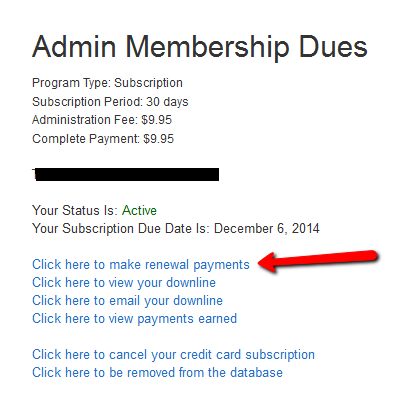 Step 5: Click the 'Click here to make renewal payments' to make your admin fee payment into the program.
That's it and very simple.  You can also use the company 'Support' feature in the back office to get any assistance if needed.
Why Is It So Important To Pay The Admin Fee and Keep The Admin Fee Paid For National Wealth Center?
As stated above, it's very important to pay the admin fee because if this is not paid, a member's account will become deactivated within the system and will lose any recurring commissions made from referrals into the program.
Also the National Wealth Center admin fee goes toward all maintenance needed to make the program the best home based business program on the planet.  Maintaining and building an online business is not cheap or easy, and this admin fee is put towards server maintenance, product updates, programming, support features, etc. to keep the program running top speed for all members.
It's also important to know that paying the admin fee into the National Wealth Center program gives each member access to the National Savings Center program where each member gets access to a huge savings program as well to give members up to 50% off of items and travel purchases they are already making.
You can read more about National Savings Center here in this post as well.
If you are looking to get started with the best home based business opportunity on the planet and start earning those 100% commissions, then just simply click the 'Register Now' button below…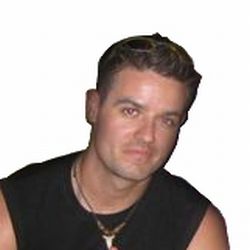 James Matthews
662.750.1029
IDwithJames@gmail.com
www.TheNationalWealthCenterReview.com

Tagged with: admin fee • national wealth center admin fee
Filed under: National Savings Center • National Wealth Center • National Wealth Center Business
Like this post? Subscribe to my RSS feed and get loads more!